Llanidloes Bowling Club
The club is located on Llangurig Road to the south of the town. Nearest postcode: SY18 6EX
THE LLANIDLOES BOWLING GREEN WILL REMAIN CLOSED UNTIL FURTHER NOTICE
Congratulations to Naomi Evans - 2019 Winner - Mid Wales Under 25 Championship
Presentation Evening 2019
Established way back in 1913/14, Llanidloes Bowling club is situated in the historic town of Llanidloes on the main A470 North to South Wales Trunk road. To the South visitors will find the 72 square miles of stunning landscapes of the Elan Vally. The East follows the Severn valley to Newtown and Welspool. The West takes you past the river Wye and onto the sea at Aberystwyth. To the North stands the magnificent Pymlymon mountain, the source of both the rivers Wye and the Severn.
| | |
| --- | --- |
| | The story of the Llanidloes Bowling Club began in the spring of 1912 when the "Llanidloes Town Improvement Association" gave, to the town, a recreation area. This area had already been donated to the Improvement Association in the year 1896 by an unknown benefactor. The only Clause being that it was to be self-supporting. A Recreation Society was then formed in the best interests of the area. |
The first use of the new ground was made by the croquet club who opened their lawn on Wednesday 12th June 1912 which was quickly followed by the Tennis Club which had already formed a Committee on the 28th May 1912. Members being L. Jones Williams, W. E. Dakin and E. Rogers. The Construction of a Block Golf Course was also being laid.
On October 15th 1912, at a meeting of the Recreation Society where the laying of a Bowling Green was discussed and agreed. The work was intrusted to Mr J. Jones-Meredith on the specifications of Dicksons of Chester. For more information on the history of the Llanidloes Bowling Club go to our History Page.
| | |
| --- | --- |
| | The recreation ground is now used by the Croquet club, Tennis courts, Bowling Green and the cricket club. |
Llanidloes Bowling Club host plenty of in-house competitions including Singles, Pairs, Mixed Pairs, Trebles and Rinks as well being affiliated to the Welsh Bowling Association, the Welsh Women's Bowling Association, the Montgomeryshire Bowling Association and the Mid Wales Women's Bowling Association.

Most importantly Llanidloes Bowling Club members welcome all newcomers with open arms and make them feel at home. Amongst club members there are several coaches who will happily spend time with new players offering advice about Bowling and the equipment used.
In 2018 Llanidloes Bowling Club had over 40 male, over 30 female playing members and around 30 social members. Most will play in the leagues ( with the exception of the new men and women who will hopefully progress to this ) and extenal competitions.
Llanidloes Bowls Club has also been proud to have a few Internationals over the years. In 2018 and 2019, two of our younger members represented Wales against Scotland, Ireland and England. Perhaps 2020 will bring more honours to the club.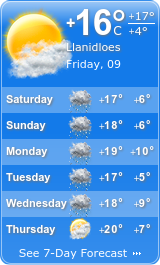 "Clicking on this Widget will take you to the main Weather Widget site and any advertising contained there."
( If you have any historical photographs relating to the Llanidloes Bowling club or information / historical facts and would be happy to have them displayed on our site please contact the Web designer. )
XXXXXXXXXXX
Indoor Bowling at Llandrindod indoor Bowling Centre
XXXXXXXXXXX